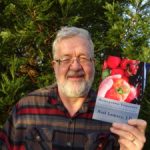 By Neal Lemery
We are often called upon to support a friend, offering them a helping hand and being their anchor point.
A friend was recently in the middle of a storm in his life, a challenge that required all of his concentration and skills. I knew he was up to the challenge and had been preparing for it for some time, with a lot of thought and energy. He was focused, focusing on what needed to be done, which was essential for success.
Yet the task was arduous, sometimes overwhelming.
"I've never done this before," he told me. He expressed doubt, insecurity, talking about the old demons that have passed through his life and about so many lives of people I know, including mine.
I am good at doubting myself, finding pessimism and self-criticism in abundance. There are a lot of things I haven't done before either. Entering new territory is perilous. I have failed too and I have these recurring thoughts of worthlessness and insufficiency. The journey opens me up to being vulnerable and risking failure and criticism. Often the worst critic is me, and I can easily list a long list of reasons why I will fail at something. Others tell me that I'm not the only one with this self-judgment and self-sabotage. Friends can joke with me that such talents can be transformed and become our greatest strengths.
Sometimes I'm the storm-rocked boat and sometimes I'm someone else's anchor. Life is like that, in turn with others, on each other's paths, one hand extended to another hand.
With my friend, I felt the need to move forward and be an anchor. I invited myself into his task, offering to be the listener of a long litany of doubt and fear, the one who waits while he accomplishes his difficult task. It took almost everything he had to complete his challenge, and he had to do it alone.
I reserved some space for him, being nearby, ready to comfort and encourage him. The nature of the challenge did not allow us to communicate, but in an important way, we did. He knew I was there, supporting, present, being the vessel of his hopes and dreams, of his fears and doubts. I accepted it all, absorbing the evil, reflecting the good of who he was and what he was going through.
When the Hurculean task was completed, I was the hugger, the cheerleader, the custodian of her relief and doubts that they had done a good job. I encouraged, I showed empathy. I was the chief auditor.
Then I took him to dinner and a well-deserved beer. He could barely get into the truck and buckle his seat belt, his sentences being fragments, a severe case of "brain death".
I made it so that he could watch nature while he ate and began to process the experience of the day, relax and enter the normal world, able to breathe in the beauty of this day.
I recalled other "anchor" duties, many of which were in the arena of hospitals and bedside tables; the austere and cold visiting areas in prisons and outside courtrooms; the midnight talks when there seemed to be no hope, no direction to the future. There was the one time I was sitting in a dark room, the gun cocked and loaded in my boyfriend's lap, fist clenched, as he cried out the tragedy of his life. The time when my aunt was my anchor, inviting me for tea but really calling me to the task, taking me into a deep conversation about life and my future.
Anchoring changes lives and saves lives. There is magic, because you often don't know what really works to help give that essential love and support.
When duty calls, you show up and become the anchor, the rock, and hopefully the healer. Work is a gift from the heart. When your own storm is raging, you remember you need your own anchor, and you reach out to someone who cares about you. Then you really realize the power of this gift.
We are called, as human beings, to keep space for others, to be their anchor in the storms that shake their lives. We must be a witness, a presence in their life, so that they are not alone, that they know that they matter to others, that their struggles are honored, that their travels are worth it.
08/01/19
Source link